The pzzls eye test - science puzzle
<! -- puzzle social end -->
Close one of your two eyes. Move your head close to the monitor and watch concentratedly to the left circle if you closed your left eye. You should look to the right circle if you closed your right eye. Keep watching and move your head slowly backwards while checking the other circle. What happens? And how is that possible?

Matches - logic puzzle
<! -- puzzle social end -->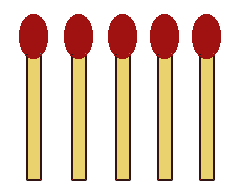 Suppose you have five matches. How can you form the number sixteen with them?
The fishing fathers - logic puzzle
<! -- puzzle social end -->
| | |
| --- | --- |
| Two fathers and two of their suns are going to fish. In total they catch three fishes. All of them take one complete fish at home. How is this possible? | |